The Flame Penguin Chestplate is a third-tier piece of armor, as you have to shear Flame Penguins to obtain it. While wearing the chestplate, you do not stay on fire after leaving fire or lava. This means you don't need a bucket of water to put yourself out.
The Flame Penguin Chestplate can be repaired with Flame Penguin Scales.
Crafted with Flame Penguin Scales and wool.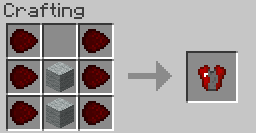 Version History
Edit
1.1c: Introduced. 
Ad blocker interference detected!
Wikia is a free-to-use site that makes money from advertising. We have a modified experience for viewers using ad blockers

Wikia is not accessible if you've made further modifications. Remove the custom ad blocker rule(s) and the page will load as expected.